WHO IS JUNGLEˣ #2 -Sense of Beauty-
Introduction
In the first installment, WHO IS JUNGLEˣ #1, we explained our purpose, taglines, etc.
In this article, we will continue to tell you about the culture of JUNGLEˣ based on the contents of our website. The theme of this article is a
sense of beauty.
The Role of Sense of Beauty in JUNGLEˣ
Before we start a specific explanation of aesthetics, we would first like to explain the role of a sense of beauty in our organization. This is because, in JUNGLEˣ, a sense of beauty is not only important in the creative professions represented by designers, but
it is an important concept in all professions and is one of the most emphasized points in hiring.
As a testament to this, the "About You" section of all JUNGLEˣ application requirements includes a statement that you share the same aesthetic sense as Jungler.
We may describe a sense of beauty as the style or context of working as a Jungler. Our company is a system of fully remote working + management by seeking the counsel of many people, and each crew member has a relatively large decision-making authority. In such a system, all crew members must have the same sense of beauty as a
compass
to move in the desired direction, a direction that is in line with the strategy and that
leads to the JUNGLEˣ purpose, Good Betting, Good Life.
TV Remote Controls and Sense of Beauty
On the
CAREER page
of our website, there is a section entitled "Sense of Beauty" that refers directly.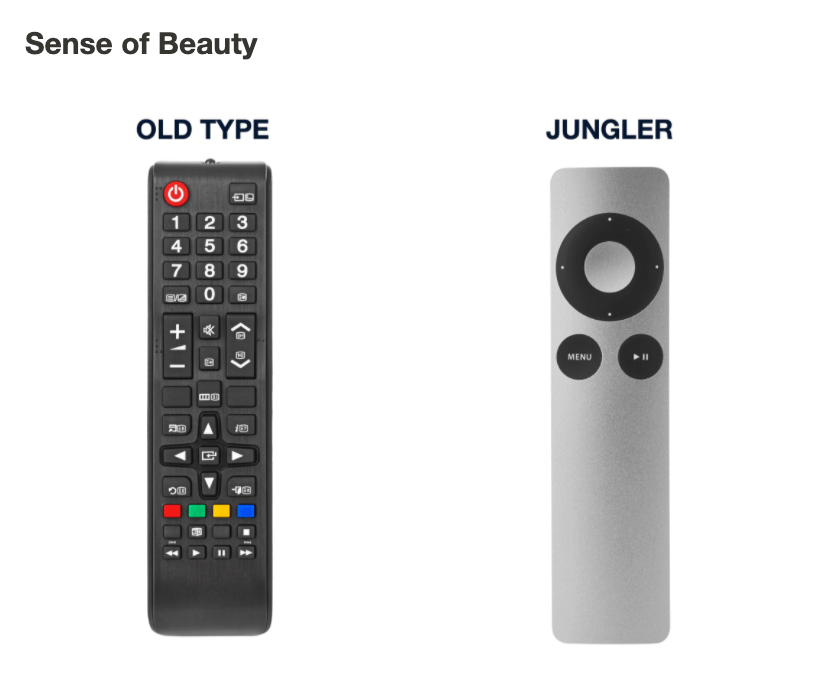 It is a simple part with just a general TV remote control as the OLD TYPE and an Apple TV remote control as the Jungler. Simple indeed, but our message is packed in here. The lack of any caption at this time is due to our secretive corporate culture, but I would like to explain one of the main messages in this article.
If you can read the high-context message behind these two pictures just by looking at them, you are suited to be a Jungler. We hope that you will prepare to make contact with us and still read this article till the end for the answers.
De-building-up Thinking
With the rise of streaming services, demand for terrestrial and cable TV has dropped, and even TVs without reception capability have recently been released.
The requirement of remote control in this age is not the ability to quickly switch to the channel you want to watch thanks to the many buttons, but the ability to comfortably browse for the content you want to watch from multiple streaming services. The Apple TV remote control is the ultimate example of this functionality.
Now we would like to ask you a question.
Can someone who has created a remote control with so many buttons create a browsing-specific remote control by making further improvements based on it?
We believe that only someone with
backward thinking from zero-scratch
can create a browsing-specific remote control, not someone thinking about changing the number or the placement of buttons. That's the reason why we answer no.
Backward thinking is one of the fundamental components of a sense of beauty that we look for in a Jungler. After all, betting has existed since time immemorial, and yet there are still no two organizations in the world that have the same purpose as we do.
JUNGLEˣ redefines and reinvents betting.
JUNGLEˣ rewrites the Sports Industry Ecosystem.
JUNGLEˣ uses betting to change the sense of beauty of people and human behavior.
And to understand our advanced strategy and connect it to social implementation, we would like to hire people who share a sense of beauty with Jungler, who have not a building-up but backward thinking.
The problems that exist in the world today cannot be solved by the level of thinking and consciousness that created them. -Albert Einstein
Conclusion
How was this article? This article was about a sense of beauty of JUNGLEˣ. If you agree with the content of this article, you have the makings of a Jungler, and we would love to have you contact us by any means possible.
If you are at all interested, we hope you will access
our website
and be able to understand us more deeply.
If you wonder what kind of people are Junglers who work for such an organization, please access our Meety page.
Thank you for reading till the end. (Written by
M MATSUMOTO
)